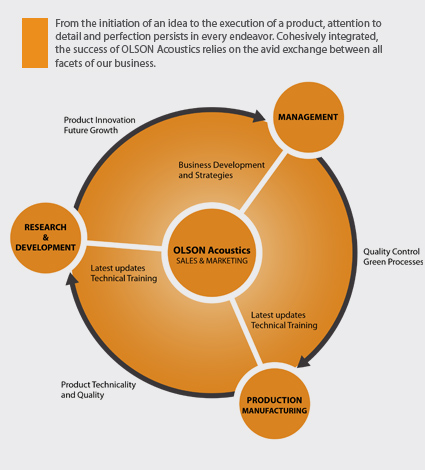 OLSON Acoustics is a solutions-oriented acoustics provider that works with clients to achieve technical and aesthetic results. Evolving with the industry since 1989, our products and solutions have vastly grown in range and performance. Our global relations have also grown with the inclusion of an international range of acoustic products. With these products and our commitment to providing the best solutions to our clients, our business has strengthened its Research & Development arm to ensure we keep improving and innovating our science.
BUSINESS ETHICS
Our business focuses on providing only quality products with necessary testing and accreditation. The integrity of our products, solutions and customer service play paramount importance to our brand.
We place emphasis on understanding the entirety of an environment and its acoustic needs to provide technically efficient solutions to our clients.
FACILITIES & RESOURCES
Research & Development has become the pillar of strength in our business. To ensure the efficiency of our products and solutions to our clients, our Research & Development team relentlessly execute continual product development and testing.
Sitting on a production space of 54,000 sq ft in Singapore, our facilities house a full production line, testing laboratories and reverberation chamber. With these resources, our entire team and management stays at the forefront of the latest acoustic developments, arming us with strong technical knowledge and know how of the industry.
THE FUTURE
OLSON Acoustics looks forward to continued growth within the industry by increasing our market presence globally, as well as expanding product range and technical strength.
We also look forward to a Greener future, with the inclusion of more acoustic products and solutions that aim at joining the global movement towards a more sustainable environment.